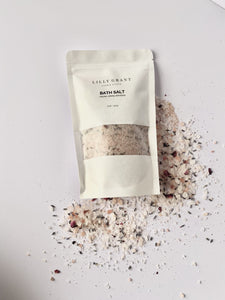 Enjoy our limited edition lavender and rose infused bath salts. Our hand blended bath salts are relaxing, calming and detoxifying.

Turn off the lights and light our new Lavender candle to set the mood. Watch your bath salts illuminate and flicker in the light as you slowly pour them into a bathtub filled with warm water. Pour a nice glass of wine or a cup of hot herbal tea. Set your playlist to Sade. Let the self-care vibes begin...

Directions: Dissolve 2-3 tablespoons to warm water and soak for 10-20 minutes. Add more if desired. Relax and enjoy

Ingredients: Himalayan sea salt, epsom salt, dried rose petals*, dried lavender, essential oils. *organic

Bath salts are 12 oz by weight.

Lilly Grant Candle Studio is a candle and wellness brand inspired by self-care, sensory exploration and relaxation. All bath and wellness products are blended by hand in small batches.

Lilly Grant Candle Studio is proud to be a Black and woman-owned business based in Chicago, IL.