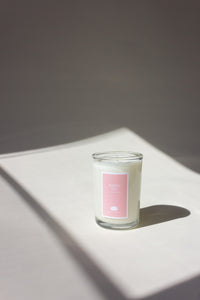 White Tea is a relaxing blend of citrusy notes with an herbaceous kick from ginger and thyme. This is then luxuriously blended with jasmine and chrysanthemum. White Tea generates a soothing and relaxing environment so you can easily drift away and escape to your favorite spa. It's your favorite staycation or spa getaway in a candle. Total relaxation...check, check, check!

Lilly Grant Candle Studio offers a sensory experience through unique scents and the soft glow of a flame. Get whisked away on a sensory journey. When the day gets tough let Lilly Grant allow you to drift away.

Our candles are hand poured in small batches in Chicago, IL. Each candle is crafted using all natural vegan soy wax, high-quality premium fragrance oils, and 100% cotton wicks.

Approximate burn time: 40+ hours. 7 oz by weight.
Lovely
I love Lilly Grant candles. My favorite is Faith, but I tried White Tea and love it, too. You just can't go wrong with Lilly Grant !